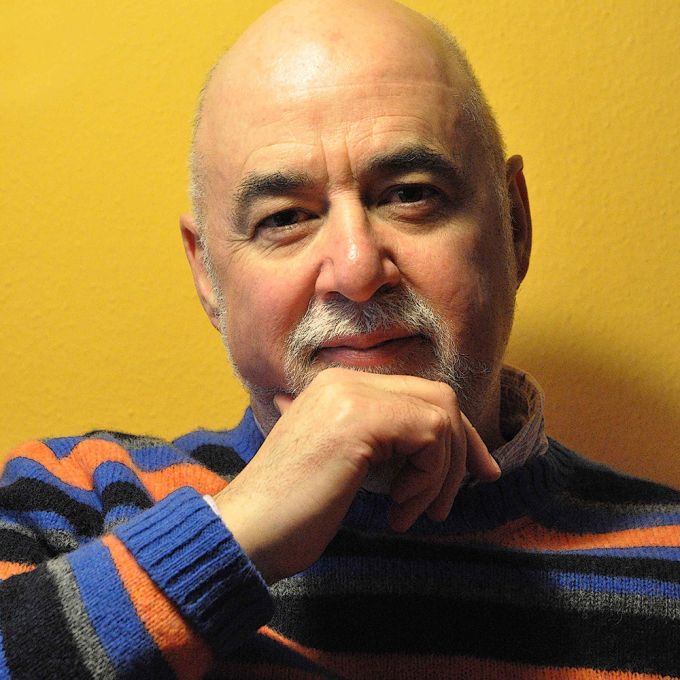 Christopher Whyte
Publishers:
Agents:
Biography
Christopher Whyte is a poet, novelist, translator and critic.
Born in Glasgow in 1952 of a Scottish father and an Irish mother, he lived in Italy between graduating from Cambridge in 1973 and returning home to Scotland in 1985.
He was Reader in the Department of Scottish Literature at Glasgow University from 1990 until 2005. He is well-known for his wide-ranging and controversial interventions on the critical scene. The edited volume of essays, Gendering the Nation: Studies in Modern Scottish Literature (1995), was a milestone in bringing gender and queer theory to bear on contemporary Scottish literature. His award-winning edition of Sorley MacLean's love poetry, Dàin do Eimhir/Poems to Eimhir (2002), dealt in honest but delicate fashion with the complex background to the sequence, while in Modern Scottish Poetry (2004), he takes an in-depth look at twenty poets from 1939 to the present and argues that the time has come to supersede traditionally nationalist readings of Scottish literature. Light Off Water (2007) is a translation, with Anna Crowe, of a selection of Catalan poetry.
He began publishing translations into Gaelic of poetry from a wide range of European languages in 1982. His first, prize-winning collection of original poems, Uirsgeul/Myth, appeared in 1991. Since then he has published one further collection, An Tràth Duilich/The Difficult Time (2002), in Gaelic only, in accordance with the positions outlined in his polemical essay 'Against Self-Translation'. He was recently described as the most interesting poet currently writing in Scottish Gaelic.
His career as a writer of fiction in English began clamorously in 1995 with Euphemia MacFarrigle and the Laughing Virgin. This novel is a laughing, often openly bawdy revenge not just on his rigidly Catholic upbringing, but on religious, sexual and social prejudice generally. Three more novels followed in rapid succession: The Warlock of Strathearn (1997), a fantastic narrative of a 17th-century Perthshire warlock; The Gay Decameron (1998), to date British literature's most generous and panoramic account of gay life; and The Cloud Machinery (2000), moving beyond Scotland to an 18th-century Venetian opera house and marking a return to the fantastic.
Christopher Whyte reads twelve European languages and is a fluent speaker of Italian and Catalan. In 1996 he was awarded a Royal Society of Edinburgh Fellowship to visit Catalonia, and a further Fellowship in 2003 to visit Hungary and Transylvania. He now lives in Budapest, where he is a full-time writer.
Critical perspective
Both in his fictional and non-fictional writings, Christopher Whyte has explored the interconnections between gender, sexual orientation and identity.
A controversial figure on Scoltland's literary scene, Whyte has powerfully satirised Scottish mythologies and has argued for a more inclusive Scottish national identity. In the introduction to his edited volume, Gendering the Nation: Studies in Modern Scottish Literature (1995), Whyte challenges the popular assumption that identifies Scottish culture with an idealised view of its history, made by men who struggled to preserve its freedom, endangered by the English. This conservative nationalism collapses Scottish identity with a romanticised, patriarchal past, as echoed by politics, social organization and the Scottish literary canon. Whyte notices that such a nostalgic manifestation of national identity excludes all those groups who belong to Scotland, but do not identify themselves in the region's past legend:
'Scottish culture, we are told, was mutilated by the twin disasters of the Union of the Crowns and the Union of Parliaments, landmarks in a process of assimilation to England which increasingly diluted a pre-existing core of genuine Scottishness. […] The dangers of such a stance are that it is committed to the restoration, not only of Scotland as it was, but of relations between genders, classes, racial groups and differing sexual orientations that would be unacceptably oppressive in a modern context. If we want to bring back a Scotland that once was, what place will there be in it for blacks or lesbians or the children of Pakistani immigrants? (xii)'
The social, cultural, ethnic and gender diversity of contemporary Scotland cannot be fitted into the reactionary definition of Scotland's glorious past of great white men. Whyte's literary essays, as well as his coming-out interview with the celebrated Scottish poet Edwin Morgan, have tried to redefine the region's cultural canon through the inspirational thrust of queer and gender studies. In his essay 'Now you see it, now you don't: The love poetry of Edwin Morgan,' Whyte challenges official heterosexual readings of Morgan's poetry, relating them to the cultural and sexual censorship about homosexuality which pervaded Scotland until the not so distant past: 'Censorship has moulded these texts. It is one of their constituent factors. The speakable is curtailed and distorted to make room for what cannot be spoken. The heterosexual reading itself has to accommodate the hidden one. If the beloved cannot be specified as male, neither can he be specified as female. A limitation creates a larger space. Absence of gender definition, the absence of a sign, becomes significant, bears meaning. Censorship moves in one direction only, against homosexuality and in favour of heterosexuality, destroying any equality between the readings and making the suppressed message necessarily more potent.'
Whyte's poetry runs the same risks of being normalised. Whyte writes his poems in Gaelic, although he is not a native speaker of the language. Any poem written in Gaelic and translated into English, he claims, is charged with assumptions about identity and power within a pluralist culture. Reviewing the collective anthology La Comète d'Alcyon (1998), Paul Barnaby has noted that 'the addressee of Whyte's elegy "Uinneag ann am Buccleuch Street" changes gender in Christine Pagnoulle's translation' so that 'the editorial celebration of diversity is undermined by telling mistranslations, or perhaps undertranslations, absences of necessary gloss.' Whyte's challenges to Scottish monologism are rooted in the theoretical insights of Mikhail Bakhtin's work as well as in his personal biography.  In 'Letter from Catalunya,' Whyte explains how he often feels excluded from his own native Scotland: 'This country does not want me, I tell myself. I am gay, a Catholic with a Jesuit education, a Glaswegian with Irish grandparents. Surrounding me are stereotypes which tell me that I am not Scottish. If I were not, I could laugh at them. The knowledge that I am binds me and infuriates me simultaneously. How dare they try to exclude me when, at the profoundest level, I am one of them?'
Whyte's novels, Euphemia MacFarrigle and the Laughing Virgin (1995), and The Gay Decameron (1998) are the fictional counterpart to Whyte's critical revision of Scottish mythologies. Euphemia MacFarrigle satirises the rites of Catholic education, while The Gay Decameron presents an epic portrayal of Scottish gay life, moving it from the margins to the centre of Scottish society. Ten middle-class gay professionals gather for a dinner party in Edinburgh and their own stories of love and betrayal are narrated in a tone which ranges from comic to tragic. Tellingly, at the end of the novel, the characters take a bird's eye view of the city and wonder about the central place of homosexuals in it. When one of the characters claims that heterosexuals may be dreaming of 'a country without jessies', 'a denellified Scotland', the others are unanimous in their response:
'"It's so ridiculous," said Nicol. "If only they had eyes to see. Who do they think sold them the newspaper they are reading? Did they look at the man who punched their ticket on the train?"
"Who comes to read the meter?" Andrew said. "Have they ever wondered why the dentist they use is so particularly gentle? When are they going to acknowledge the extent to which they depend on us to get through an ordinary day?"
"We are their sons and brothers," said Ramon, "their uncles and their cousins."
"Fathers and husbands and lovers too," said Rory.'
The Gay Decameron depicts gay love in a clearly affirmative light showing partners who support and respect each other. While Kieran is waiting for Dougal to come to bed, he thinks that his companion is like a port and that his embrace is as secure as 'a latch on the inside of a door at nightfall. When the day is over, thought Kieran, I can guide my ship inside these safe, protecting walls and rest it there.'
Whyte's latest novel, The Cloud Machinery (2000), moves from Scotland to Italy, where the author spent more than ten years of his life. Set in Venice in 1761, the novel focuses on mysteries surrounding the theatre in St Hyginus, Venice's smallest parish, which is about to reopen after seven years. Domenico, a young musician, has been employed as conductor. He will find himself enmeshed in a murder mystery and in a quest for the will that could give back to his lover Rodrigo the fortune of which he has been deprived. The atmosphere of deceit is heightened by the Carnival which is in full swing and by a theatrical contraption, the cloud machinery, which becomes central to the plot and to the novel's main theme about the exchange between theatre and everyday life.
Luca Prono, 2005
Bibliography
2014
Marina Tsvetaeva, Moscow in the Plague year (poems)
2013
An Daolag Shìonach (poems in Gaelic)
2012
Ádám Nádasdy, Take Down His Particulars (poems)
2011
Sorley MacLean, An Cuilithionn 1939 and Unpublished Poems
2011
Sorley MacLean, Caoir Gheal Leumraich, Collected Poems
2009
2009 Bho Leabhar-Latha Maria Malibran / From the Diary of Maria Malibran (poems in Gaelic with English translations)
2009
Dealbh Athar (poems in Gaelic with Irish translations)
2004
Modern Scottish Poetry
2002
Dàin do Eimhir/Poems to Eimhir
2002
An Tràth Duilich/The Difficult Time
2000
Bàrdachd na Roinn-Eòrpa an Gàidhlig/European Poetry in Gaelic
1997
The Warlock of Strathearn
1995
Gendering the Nation: Studies in Modern Scottish Literature
1995
Euphemia MacFarrigle and the Laughing Virgin
1994
Fourteen Italian Poets for the Twenty-first Century
1991
An Aghaidh na Sìorraidheachd: Ochdnar Bhard Gaidhlig - Duanaire dà-chànanach/In the Face of Eternity - Eight Gaelic Poets: A Bilingual Anthology
Awards
2003
Scottish Arts Council Writer's Bursary
2002
Saltire Society/National Library of Scotland Research Book of the Year
2001
Scottish Arts Council Book Award
1998
Scottish Arts Council Book Award
1998
Scottish Arts Council Writer's Bursary
1991
Saltire Society Scottish First Book of the Year Award