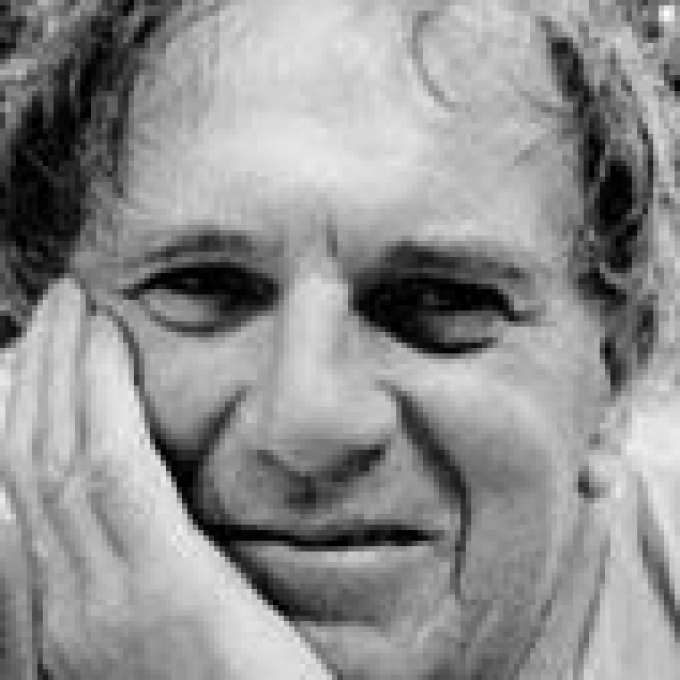 Christopher Logue
Publishers:
Agents:
Biography
Christopher Logue was born in 1926 in Hampshire, and was educated in Bath.
He was associated with the British Poetry Revival, and also wrote for theatre and screen, including the screenplays Savage Messiah and The End of Arthur's Marriage. He was a regular contributor to Private Eye and to Merlin literary journal. From 1951-1956 he lived in Paris, then returned to England, publishing poetry and writing plays for the Royal Court Theatre. In the 1950s he began a contemporary version of Homer's Iliad, an ongoing project which resulted in several full-length books of poetry. War Music (2000), contains the earlier collections War Music (1981); Kings (1991); and The Husbands (1994). His later books in the Iliad series are All Day Permanent Red (2003) and Cold Calls (2005), winner of the 2005 Whitbread Poetry Award.
Christopher Logue also wrote several other collections of poetry, including a Selected Poems in 1996. He edited books of verse for children, and wrote many songs and libretti. A volume of autobiography, Prince Charming, was published in 2001. He lived in London, and was awarded a CBE in 2007.
Christopher Logue died in December 2011.
Critical perspective
'Think of the east Aegean sea by night, / And in an open bay before that sea / Upwards of 30,000 men / Asleep like spoons among their hightailed ships'.
This is the deceptively peaceful opening of Kings (1991), one of the books comprising War Music, Christopher Logue's epic work-in-progress which re-tells episodes from Homer's Iliad. As this panoramic wide shot suggests, Logue's art is thoroughly cinematic – alternating blood-drenched, melodramatic, or erotic scenes - and cuts between intimate close-ups and aerial views, featuring the gods and their favourites: super-heroes and psychopaths, lovers and victims, survivors of political intrigues and battles. Graphic and sensationally vivid in imagery, its artfully anachronistic detailing and contemporary references place the Trojan War imaginatively in a direct line to the eternal succession of military conflicts, with all their epic endurance, courage – and futility. War Music is not a translation so much as a great dramatic war poem 'dependent on the Iliad', and has been praised as such over the almost five decades of its making by Ezra Pound, Lawrence Durrell, George Steiner, Derek Mahon, Doris Lessing, and many other literary luminaries.
Yet, as Logue's prose memoir Prince Charming (2001) makes clear, its author followed his inglorious post-war National Service in the army with a prominent commitment to CND campaigns against nuclear weapons, and continued to regard warfare as 'a criminal activity'. The book gives an at times painful account of his personal life and development as a writer up to the mid-1960s, interspersed with flashbacks, 'contrived' conversations, and by his friends' views of him. The most entertaining section covers his years in Paris between 1951-1956, when he became associated with avant-garde magazines, and became friendly with the likes of Samuel Beckett, Alexander Trocchi, and Maurice Girodias the notorious publisher of the Olympia Press. His return home to London coincided with a vogue for jazz-poetry, and the early 1960s satire boom; Logue became a performer, as well as contributing long-running columns to the magazine Private Eye. Logue went on to make cameo appearances in Ken Russell films, and to deliver poetry readings all over the UK.
Logue's Selected Poems (1996) includes a substantial, though uneven, body of work. It includes some of his lyrics for The Lily-White Boys, a musical at the Royal Court Theatre, directed by his friend Lindsay Anderson in 1960. 'The Song of Natural Capital' is a pointedly Brechtian view of relations between the sexes: 'Men are all very well / Said my mother / And they make love sound inviting. / But you climb life's ladder on your back, / So get their promises in writing'. The best of these poems are indeed anti-war political and social satires, such as 'The Ass's Song', 'I Shall Vote Labour' and 'To My Fellow Artists'. The latter is one of Logue's poster poems, addressing ironically the threat of 'the oncoming megaton bombardments' – with the Auden-like detail of 'intricate visions etched into breastplates / by Trojan smiths'. Logue's Red Bird album, recorded with jazz musicians, consists of his versions of love poems by Pablo Neruda: 'Your tongue like a red bird / dancing on ivory, / your lips with the smile of water'. The volume concludes with an early version of a section from the Iliad (not included in War Music) describing Achilles being almost drowned by the river Scamander, then rescued on Hera's orders by the crippled fire god Hephaestus.
As he relates in Prince Charming, Logue had been working on the Iliad since a BBC radio commission in the late 1950s; 'knowing no Greek', he studied a range of translations, notably those of Alexander Pope and E.V. Rieu. He modernized his poetic language via Ezra Pound's The Cantos and by what he admired in T.S. Eliot; but the eventual adoption of cinematic methods, especially cross-cutting and montages, gave his work far more immediacy and accessibility. His plan was 'to retain Homer's storyline, to cut or amplify or add to its incidents … [he] tried to make their voices come alive and to keep the action on the move'. He has however observed that, 'As the work lengthens, I move further away from Homer's actual text'. The most convenient edition, published by Faber in 2000, brings together the first three volumes.
War Music was belatedly published, to great acclaim, in 1981. Its drama opens with the Greeks being pushed back to their ships and Patroclus fatally persuading the sulking Achilles to lend him his armour. The counter-attack leaves 'Agamemnon's ditch stained crimson where / Some outraged God five miles tall had stamped on glass'. These tremendous battle scenes suddenly shift perspective: 'Larks soar above the soldiers, breathing haze. / And them above, their faces pressed against eternal glass, / The Gods'. The action ends with the now grieving Achilles examining his new divine armour and preparing to re-join the war: 'Though it is noon, the helmet screams against the light; / Scratches the eye; so violent it can be seen / Across three thousand years'.
The critic John Bayley, in an enthusiastic review of The Husbands (1994), remarked that Logue 'give[s] us through language the sort of thrills that Homer gave … and called it 'the modern equivalent of the heroic style'. The major incidents are wonderful inventions, notably a centrepiece duel between Helen's husband Menelaos and Paris, whose abduction of her caused the conflict. Again the interventions of the gods are critical, shattering a proposed truce. Paris is spirited away from harm by Aphrodite; and when Athene 'leaves' Menelaos, he takes a Trojan arrow in 'the pubic mound'. The final lines beautifully render the passage of time: 'And now it has passed us the sound of their war / Resembles the sound of Niagara / Heard from afar in the still of the night'.
All Day Permanent Red (2003) and Cold Calls (2005) can be regarded as 'prequels'. The former recounts the action of a single battle; 'The armies hum / As power-station outflow cables do'. There are graphic scenes of slaughter, conspicuously contemporary references ('Porsche-fine chariot', 'the uzi shuddering warm') and colloquialisms abound: 'Nice one!' And 'The noise they make while fighting is so loud / That what you see is like a silent film'. Cold Calls won the 2005 Whitbread Poetry Award. Aphrodite, styled as 'Our Lady of the Thong', takes centre stage, seducing the river God and setting a Greek killer to madly butcher his own side. There is some war-weariness, though both sides are convinced victory will be theirs. Finally the Greeks entreat Achilles to re-join them; but we know this will not happen until Patroclus' self-sacrifice. It is a piquant irony that Logue, a pacifist who was jailed during his army service and denounced war, should have produced the energy and eloquence of War Music.
Dr Jules Smith, 2008
Bibliography
2003
All Day Permanent Red
1986
The Children's Book of Children's Rhymes
1986
The Seven Deadly Sins/Bertold Brecht
1981
Ode to the Dodo: poems 1953 to 1978
1980
Christopher Logue's Bumper Book of True Stories
1979
The Children's Book of Comic Verse
1976
The Crocodile/Peter Nicki, Binette Schroeder
1973
Christopher Logue's True Stories from Private Eye
1971
The Isles of Jessamy
1968
The Words of Christopher Logue's Establishment Songs etcetera
1966
Selections from a Correspondence between an Irishman and a Rat
1964
The Arrival of the Poet in the City
1960
Songs from the Lily-White Boys
1959
Count Palmiro Vicarion's Book of Bawdy Ballads
1958
The Man Who Told His Love
1957
Count Palmiro Vicarion's Book of Bawdy Limericks
1956
Devil, Maggot and Son