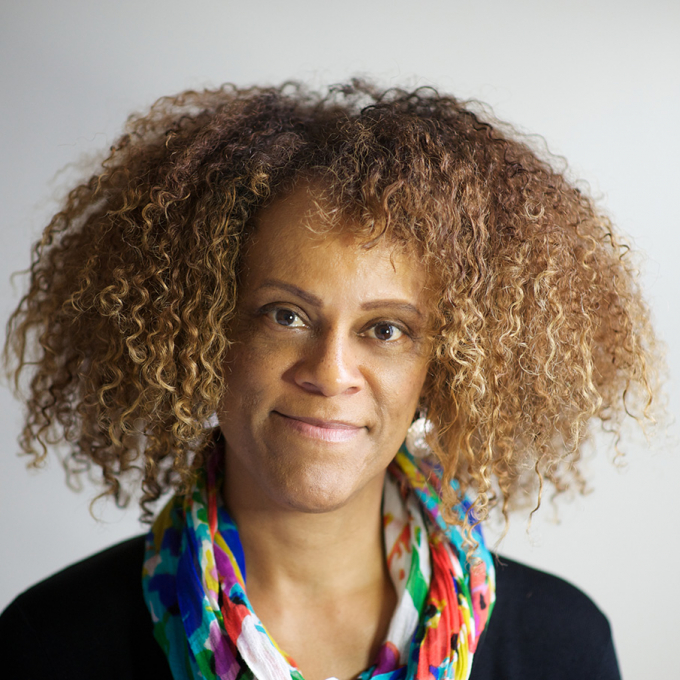 Bernardine Evaristo
Publishers:
Agents:
Biography
Bernardine Evaristo was born in London to an English mother and Nigerian father.
The fourth of eight siblings, she was raised in Woolwich, South London, and originally trained as an actress and worked in theatre. She is the author of two critically-acclaimed novels-in-verse: Lara (1997), which traces the roots of a mixed-race English-Nigerian-Brazilian-Irish family over 150 years, three continents and seven generations; and The Emperor's Babe (2001), the ground-breaking tragi-comic story of Zuleika, a girl of Sudanese parents, who grows up in Roman London 1800 years ago and who has an affair with the Roman Emperor Septimius Severus. Her novel-with-verse, Soul Tourists (2005), is about a car journey across Europe featuring a mismatched couple, Stanley and Jessie, with appearances en route from ghosts of colour from European history such as Pushkin, Alessandro de Medici and Mary Seacole. Her novel Blonde Roots was published in 2008, and in 2010, she wrote the Quick Reads novella, Hello Mum. Mr Loverman (2014), is about a 74 year old Caribbean London man who is closet homosexual. Girl, Woman, Other (2019) tells the stories of a loosely connected group of people - mostly black women in complex mother-daughter relationships - across 120 years of British history, from the turn of the twentieth century to the present day.
Evaristo has also written for theatre, radio, print media and for a multi-media collaboration Cityscapes with saxophonist Andy Sheppard and pianist Joanna MacGregor for the City of London Festival in 2003. She has undertaken over 50 international writers' tours since 1997, ranging from one-night readings to three-month teaching residencies. She has been a Visiting Professor at Barnard College/Columbia University in New York, Writer-in-Residence at the University of the Western Cape, Cape Town, and Writing Fellow at the University of East Anglia. She also represented Britain, with the novelist Glenn Patterson, on Literaturexpress Europa 2000, which took 105 European writers through 11 European countries over six weeks by train, travelling from Portugal to Berlin via Belgium, the Baltics and Russia.
She is a Fellow of the Royal Society of Literature and the Royal Society of Arts, and was awarded an MBE in 2009. She is Professor of Creative Writing at Brunel University London.
Critical perspective
During the 1990s Bernardine Evaristo emerged as one of Britain's most talented, innovative and successful contemporary writers.
Born in London and of mixed European and African parentage, Evaristo' s background has proved an important resource within her fictional writing. The self-consciously hybrid stance she takes in her work has invited comparison with the new generation of British-born, Black British writers like Andrea Levy, Jackie Kay and Hanif Kureishi who, in the words of Caryl Phillips, feel 'both of and not of' this country. Evaristo's writing is clearly energised by her own plural, diasporic heritage which marks her as both a British and a post-colonial writer. For Evaristo to be 'Black' and 'British' is not a contradiction. Her narratives raise crucial questions around what it means to be 'here', producing post-national landscapes in which Britain appears as the crossroads for a series of global movements and migrations. Her fiction makes clear the fact that it is no longer, and more importantly never was, possible to return to a pure, white, Anglo-Saxon Britain prior to immigration.
If Evaristo's writing is notable for the extent to which it transgresses the boundaries of the nation, then it is just as remarkable for the extent to which it challenges the traditional boundaries of literary genre. Her early writing includes the play, 'Moving Through', which was performed at the Royal Court Theatre Upstairs and a collection of poetry, Island of Abraham (1994). However, her more recent work combines in striking and intricate ways the genres of drama, poetry and prose, collapsing the boundaries between them to create what might be described as novels-in-verse.
Lara (1997), her first verse novel was a critical success and reached a number of short lists for literary prizes, winning the EMMA Best Novel Award in 1999. Blending lyrical poetry and fictional prose, fact and fantasy, history and myth, Evaristo's exuberant debut defies easy or singular definition. Set in the 1970s, it tells the story of a young girl growing up in the white London suburb of Woolwich. However, the novel is not as historically or geographically limited as such an account suggests. Lara's journey of self-discovery, as she becomes increasingly aware of her racial difference, is also a journey that takes her to three continents - Africa (Nigeria), Latin America (Brazil) and Europe (Turkey, France, Spain). Lara travels across nations and generations in narrating the life of its protagonist, whose ancestry is Nigerian, Brazilian, English and Irish. In handling this complex genealogy the narrative travels across time and space, transcending the confines of suburban life.
After winning an Arts Council Award in 2000, Evaristo went on to publish The Emperor's Babe (2001). Like Lara, this witty 'novel' evokes a range of disparate voices, histories and landscapes. Set in London in 211 AD, the text centres upon the life of Zuleika, the daughter of Sudanese migrants. The Emperor's Babe uses this life cleverly to recover the neglected early history of the Black experience in Britain. This past, which historians like Peter Fryer have traced back to Roman times, is brought to life in Evaristo's wonderfully inventive verse novel. The ancient Londinium evoked within its pages is no utopian space, but an uneven, divided landscape in which racial, gender and class conflict prevail. The Emperor's Babe does not simply excavate a hidden past that is 'over and done with', it gestures forward to the contemporary city and the current problems associated with urban life in Britain. Evaristo's stylish, early experimental fictions promise much. This is a writer who is pushing not just the boundaries of contemporary British writing, but of what it means to be 'British'.
James Procter, 2002
Awards
2019
Booker Prize (winner)
2015
Triangle Publishing Awards: The Ferro-Grumley Award for LGBT Fiction
2015
The Montgomery Fellowship
2014
Jerwood Fiction Uncovered Prize
2010
Hurston/Wright Legacy Award
2010
Poetry Book Society Commendation
2009
International IMPAC Dublin Literary Award
2009
Orange Prize Youth Panel Award
2009
Orange Prize for Fiction (longlist)
2003
National Endowment for Science, Technology and the Arts (NESTA) Award
2000
Arts Council Writers' Award
1999
EMMA (BT Ethnic and Multicultural Media Award) for Best Book/Novel